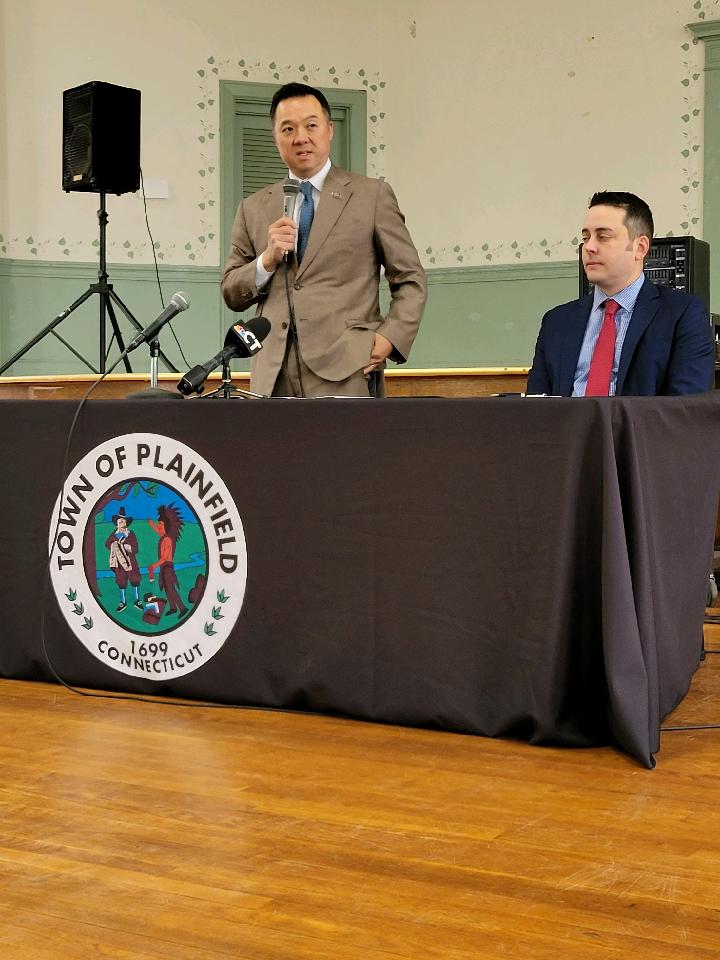 On June 13, 2023, Norwich Bulletin published an article about Attorney General William Tong's visit to Plainfield to discuss what the state is doing to handle the opioid epidemic and youth vaping, including funds for addiction treatment available from recent opioid and Juul lawsuits.
Link to article: Where does CT stand on tobacco, the opioid epidemic, youth vaping and cannabis?
Attorney General William Tong visited Plainfield Tuesday to speak on state efforts to address what the state is doing to handle the opioid epidemic and youth vaping.
In recent years, Connecticut has been pivotal in taking action against the opioid and vape industries. For opioids, the industry was sued for $500 billion, and Connecticut will get $600 million over 18 years. For vaping, Juul was "pushed to the brink of insolvency," and was sued last year for $438.5 million, and Connecticut will get $16 million of that, Tong said.
Connecticut's legacy of fighting tobacco, opioid industries
This is built off the state's legacy of fighting the tobacco industry that began over 20 years ago, when U.S. Senator Richard Blumenthal was the attorney general. Connecticut and other states sued the tobacco industry over predatory marketing practices, including mascots and redemption programs aimed at children, Tong said.
The tobacco industry was sued, and has to make payments to states in perpetuity. From this, Connecticut receives $120 million annually, and has received $3 billion since the start of the payment. As all the states get a payment from the industry, and some more than others, "it's an astronomical amount of money." Despite reducing smoking by half since then, tobacco is still popular, as it can afford to make these payments, from the sales of their products. This conundrum also applies to the opioid settlements, Tong said.
"That's part of the challenge that we have to confront when we enter these settlements, knowing that they have to continue to run their business, but doing so in a way that isn't harmful," he said.
The opioid crisis is personal for Tong, because a former intern of his died because of addiction. It's also personal for many families, as more than 1,400 people suffering from opioid addiction will die in Connecticut this year, causing $10 million in economic damage, Tong said.
With the opioid payments, municipalities should have started getting their shares already. Those first payments may have seemed small, but Tong said those were the minimum of what these payments could be. Connecticut's opioid share is set up so that 15% goes to towns, 15% goes to the state for any use, and 70% goes to the state for fighting opioid addiction.
The 70% is distributed by the CT Opioid Settlement Advisory Committee to organizations and programs helping combat addiction. As the state will see $26 million in settlement funds this year, these organizations are strongly encouraged to ask the people who represent the region to advocate for their efforts, Tong said.
Southeastern Regional Action Council
The Southeastern Regional Action Council (SERAC) hosted Tong Tuesday. This organization offers school programs to prevent addiction and recovery and wellness events for those in the community, improving awareness in the community said Eric Reynolds, recovery friendly workplace coordinator.
"The time to figure out how to help someone in crisis is long before they've come to you and told you what the crisis is," he said.
Narcan training
Plainfield resident Ann Terwilliger shared her son's story. He got into an ATV accident, which lead to multiple health problems, including an opioid addiction. After multiple attempts at addiction treatment, the family eventually had him incarcerated and put into a treatment program, "as a last resort." While she was pleased to learn at the talk that SERAC offers Narcan and training to the community, the community needs to be more aware of Narcan and other addiction services.
"Something's still failing," she said.
SERAC is figuring out where the interest is for Narcan trainings are, and using those to bring more awareness to services. Reynolds said, as he'll run a Narcan training in Coventry next week.
Cannabis concerns
Tammy De La Cruz from Community Speak Out asked Tong about the addiction impact of cannabis, as adult use sales began in the winter. Tong said he opposed cannabis legalization while he was in the legislature, but there isn't a point "in putting the genie back in the bottle," but wants to make sure the sales stay within the strict bounds of Connecticut's dispensary system. Even though certain hemp products like Delta 8 and Delta 9 can be found outside of dispensaries, only licensed dispensaries are allowed to sell products with a 0.3% or higher THC concentration, Tong said.
Edibles that are made and packaged like knock-offs of name brand junk food are also a concern of Tong's. They can have excessive THC content, and kids may unintentionally eat too many of them and need hospitalization, he said.
---